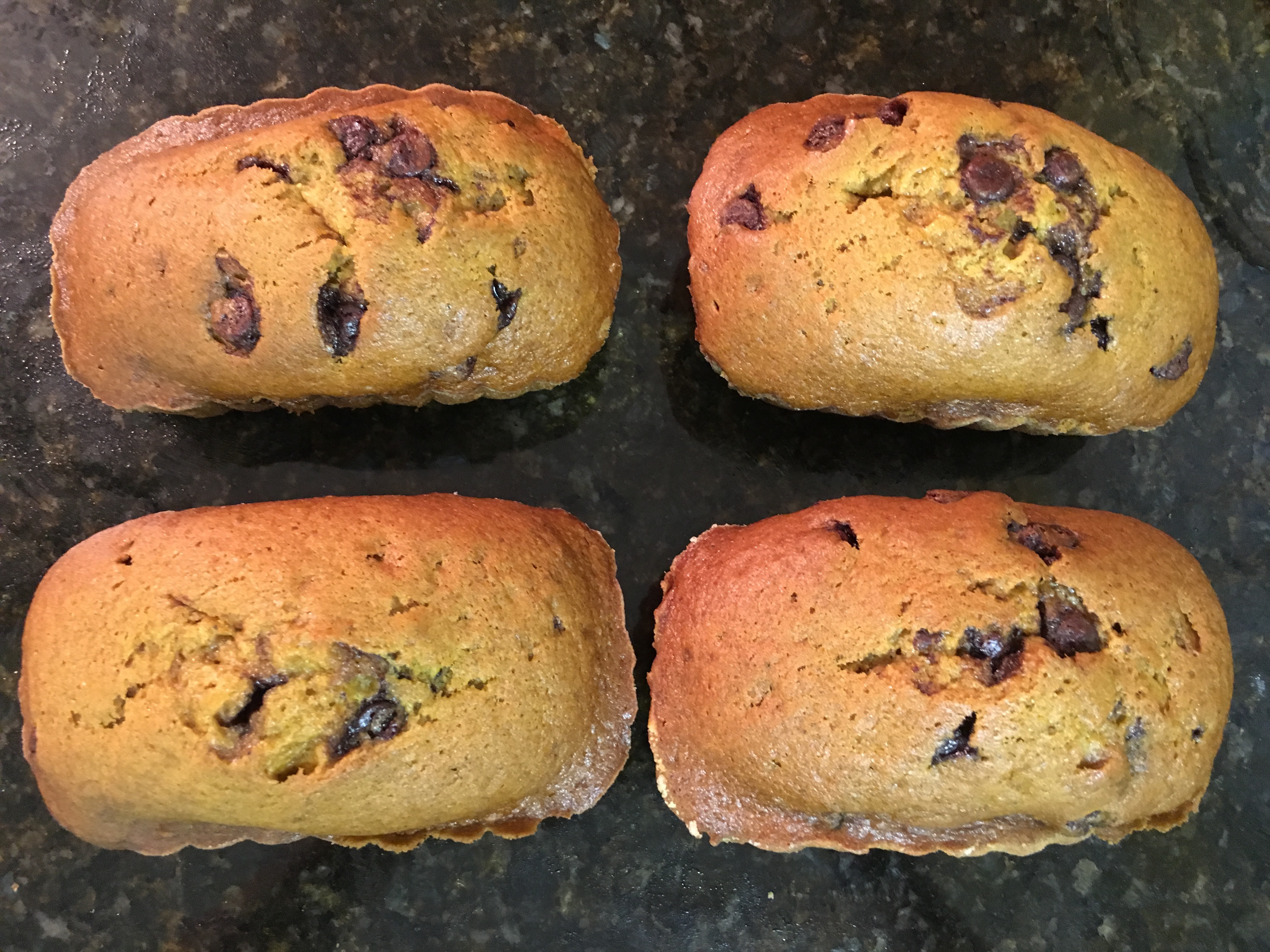 Are you looking for a gift idea that comes from your kitchen?  Well here is the answer.  This recipe is an old family favorite and is loved by everyone.  It makes a huge batch and you can make ahead of time and freeze for guests throughout the holidays.  I love to make these tasty breads in small bread tins and wrap them in holiday treat bags or wrap them in fun holiday wrapping with ribbons to hand out to neighbors, friends or colleagues at work.  Enjoy the smell of the holidays while baking these!
Ingredients:
1 ½ C oil
4 ½ C sugar
6 eggs
1 lg can of pumpkin (29 oz)
¾ t baking powder
1 T baking soda
1 T salt
1 ½ t each of cloves, cinnamon, allspice, and nutmeg
5 ½ C flour
1 C lukewarm water
Directions:
Beat the sugar and oil together and add 2 eggs at a time.
Slowly add the rest of the ingredients except the flour and water. Blend thoroughly.
Slowly add portions of flour and water alternatively.
Add and stir in:
1 ½ C chopped walnuts
12 oz. chocolate chips
Grease and flour bread pans or tins – fill them ½ full.
Bake at 350 degrees for 50 minutes for a large meatloaf size or 20 – 25 minutes for mini loaves. Insert toothpick in center if clean they are done. May have chocolate on it though so don't worry.
We used to stir by hand — ughh until the wonderful Kitchen aid mixer!
Great for Christmas and Thanksgiving and for gifts. We like to make mini loaves using the foil tins – should make at least 15-20 small ones then we would wrap them in plastic and gift wrap. We didn't always have the small tins so we would use cleaned out soup cans and fill 2/3 of the way and bake in those for a cylinder shape.