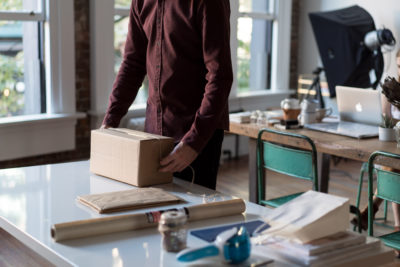 You have finally found that perfect home in the perfect location with the perfect schools and neighborhood.  Now the real work begins!  The sorting, packing and moving may be causing you to lose sleep, but don't worry, we have some survival tips to help make this stressful time a success.  Andrea Brundage, Professional Organizer and "Bringer of Calm," has created a list of moving survival tips to make this memorable time in your life that much easier.
Do-It-Yourself (DIY) Packing
Do not pack and move things that you do not love. Instead sell, consign, give away, or donate those items that no longer serve you, Keep only the things that you will love having in your new home.
Once you have purged things you do not want, do a visual estimate to determine how many boxes you will need and what types of packing materials you will want to purchase. Many moving companies have online calculators to help you determine how many boxes you will need to move your belongings.
Pack a clear plastic bin for essentials. This bin will travel with you or be one of the last items loaded onto the moving truck (so it is the first to get unloaded at the new home). The bin might contain items such as toilet paper, hand soap, dish soap, paper towels, paper plates, plastic utensils, Ziplocs, garbage bags, travel clock, flashlight, small hand tools, box cutter, band-aids, etc. If you have children, consider packing a second bin for toys, a portable DVD player, movies, coffee maker, etc.
Use sturdy boxes of similar shapes and size to increase stacking effectiveness.
Place heavy items in the box first, lighter objects on top. Choose size appropriate boxes. For example, using a large box to pack dishes, pans, and other heavy items will become too heavy to safely lift. Instead, consider packing dishes separately from pans and use two medium sized boxes instead of one large box.
To prevent damage to your television set, you can purchase box kits specifically designed for flat-screened TVs. The same is true for artwork.
Wardrobe boxes protect your clothes and make transporting your clothes a breeze.
Vacuum sealing kits are great for sweaters, out of season clothes, blankets, and quilts.
Fragile and delicate items should be wrapped sufficiently to prevent breakage. The box should be labeled "FRAGILE" in large, highly visible letters.
Think "like-with-like" and pack boxes according to the room (i.e., plates with plates, spices with spices). Pack rooms separately and clearly label the top and side of each box.
Do not over pack boxes.
Before sealing, fill empty spaces with packaging paper, peanuts, or other cushioning to prevent shifting.
Use heavy duty sealing tape to close box.
Clearly label boxes on the top and on the side – color coded labels are very helpful for room designations.
Use garbage bags sparingly. They are slippery, do not stack, and often tear open during transit.
Load boxes ensuring that the labels are visible.
If moving yourself, read the fine print for your rental, and schedule to reserve the rental as soon as you have a confirmed move date.
Even if you move yourself, consider hiring a professional company to pack and ship your fragile valuables, large collections, and awkward or irreplaceable pieces of furniture.
Hiring Professional Moving Companies
If using a moving company, always use a reputable company and read their reviews.
When you select the moving company, carefully read the contract and make sure you are comfort with its terms and conditions.
Sign the contract and secure the move date as soon as possible.
Most moving companies also provide packing services for an additional fee. Be sure your home is purged of everything you no longer want, otherwise it will end up packed and at your new place.
Other considerations
If possible, arrange to have the new home professionally cleaned before you arrive.
Arrange for your new utility set-up (water, electric, cable, Internet, phone) and disconnections at your current home a couple of weeks in advance. As a precaution, you will want to follow up a few days before your move date to ensure everything is in place.
Obtain a Change of Address kit at the Post Office or get the forms online. Some suggest submitting your address change two weeks before your move.
Notify banks, credit card companies, and magazines of your new address.
Update insurance policies, online accounts, and personal profiles with your new address.
Check with the Department of Motor Vehicles on requirements for updating your address and auto registrations.
If you have pets, find out the pet licensing requirements for your new city or town.
If you have children, consider arranging for a babysitter, or at a minimum, bring some extra special things that may help keep them occupied as you unload.
If you have pets, consider using a kennel to prevent them from getting out and running away while you are unloading.
Andrea Brundage is a Professional Organizer & Bringer of Calm. She is the founder of Simple Organized Solutions (SOS) and her expertise in organization and time management is highly regarded. She has appeared on numerous television programs; has been a guest on several radio programs, and has been published or quoted in numerous national and local publications. As a public speaker, Andrea has facilitated over 100 workshops related to organized living, time management, and estate organization. Andrea enjoys working with people and organizations that are eager to turn their "Chaos into Calm." ™
To learn more about Andrea Brundage and Simple Organized Solutions, visit www.ProfessionalOrganizerAZ.com.
Michelle Lohman, Realtor