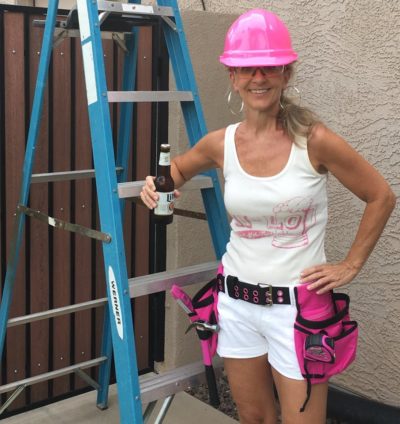 This photo gives new meaning to "Let's Get Hammered"!
(Of Course I am referring to the PINK Hammer in my tool belt!!)
I have always joked around about how many hats I wear — mother, wife, realtor, daughter, sister, friend…..those are the obvious ones. But sometimes as a real estate agent, I can wear some "unexpected hats".
Last year, I was at a home inspection with a client 
and the home inspector said the "roof was falling in!" Later that day, I was talking to a friend of mine, Karl, and I said, "I think I need a Hard Hat!!" Well, he remembered that comment and months later, Karl bought me a hot pink hard hat for Christmas.
Many weeks later, Karl and I were talking about work again, and I said, "When I am showing houses, I am trying to hold onto my car keys, my phone, my sunglasses, the shackle (Real Estate Lockbox), and the key to the property. I physically do NOT have enough hands!!! What I really need is a tool belt!!" Yep, you guessed it, Karl remembered, and for my 50th Birthday, he got me a hot pink tool belt, pink tape measure, pink HAMMER, pink leveler, and pink goggles!!
Great memory, great sense of humor, and a wonderful friend!
Thank you Karl Weiss!!! I think this "character"/alter ego needs a name! How about "Barb Vila" ? Or "Tina the Toolgal Taylor"? I guess I better not say, "the only thing missing is a pink ladder" (cause then I'll know what I am getting for Christmas! Ha!!).
Thank you again Karl!!! I'm still smiling!!
Michelle Lohman, Realtor