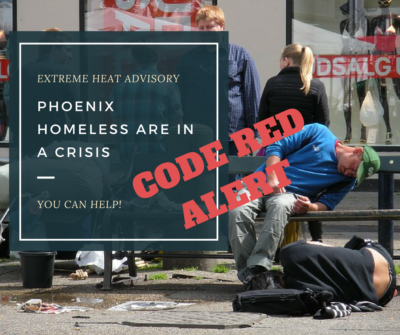 With the temperatures rising throughout the valley and most of Arizona, the homeless are at extreme risk.  It is at a Code Red for summer heat relief.  Help your homeless neighbors survive these summer temperatures!
In Arizona, an average of 118 people die every year from excessive heat. During Code Red months, with temps in the triple digits, life on the streets goes from unbearable to deadly. Homeless men, women, and children in our community urgently need your help to survive the blistering summer heat.
The Phoenix Rescue Mission has created water drop off sites for people to drop off donations of life-saving water throughout the Phoenix Metropolitan area.  Visit here for a map of the drop off locations.
Many agencies throughout the State of Arizona and across the country have set up relief projects to assist in a variety of ways.  Click here to provide relief and support in your community.
Did you know that last year, almost 18,000 people in Maricopa County were homeless . . . 40% of them in families.
The face of homeless is changing.  
An astounding 37 percent of Maricopa County's homeless people are families, usually a single mom with kids. The Phoenix area ranks fifteenth highest in the U.S. for the number of homeless people in families.
The Phoenix Rescue Mission continues to provide resources to those in need. The Mission has helped transform the lives of thousands over the decades. Programs and services include:
 Shelter / Emergency Services
Changing Lives Center for Women & Children
Addiction Recovery
Hope Coach Mobile Outreach
Spiritual Recovery
Ways that you can assist:
Volunteer on the Hope Coach van to travel the streets of Phoenix and care for homeless men, women, and families. You can bring water, encouragement, and essential items to:
People who need help but don't yet know about the Mission.
Those who cannot make it to the Mission on their own.
Struggling neighbors whose only source of help is the Hope Coach.
Blessings to you for all you do for our community,
Michelle Lohman, Realtor