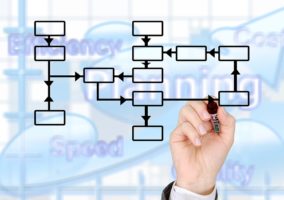 In today's highly complex world, we must think and act strategically.  This means continuously determining:  "Are we doing the right thing?" and then making the tough decisions about what to do, why to do it, and how to do it.  It also entails paying attention to the big picture and the ability to understand and adapt to changing circumstances.  
Ask yourself the following:
   *  Who are we?
   *  What is important to us?
   *  How do we connect with each other?
   *  What are the similarities, differences and relationships that having meaning across 
       space and time?
   *  How can we influence our environments?

Through experience and expertise, Healthy Workplaces offers you the opportunity to explore these and other critical questions with comprehensive solutions.
Performance Management:  SmartComp™

Sustainability: The Triple Bottom Line
The energy and enthusiasm behind 
Healthy Workplaces
 is our president and founder,
Mallary Tytel
.  An experienced, hands-on CEO, Mallary has a unique blend of business, government, education, and community-based practice spanning more than 20 years.
To schedule a consultation with Mallary Tytel, you can email her at
info@healthyworkplaces.com
or call her directly at 
860-874-7137.
Michelle Lohman, Realtor